New:

Petite serie

In 2018 we started testing with a whole new Hydrangea paniculata series.
This series includes the following types:

Petite Cherry
Petite Lanterne
Petite Star

We only introduce species that are different from other paniculata species.
The selection is mainly about early flowering varieties that change color until autumn (October).
The varieties are tested for a number of years before they go on the market.
The Petite series is not only striking because of the growth and flowering of the plant, but also because of the turquoise blue / green color on the pot and the label.

Because the flowers are open in structure, the bees have better access to them for pollination.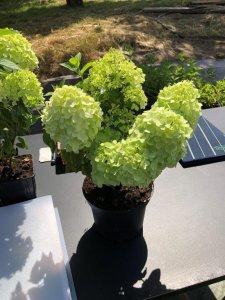 Hydrangea paniculata 'Petite Cherry'
This Hydrangea will flower in June. It first gives white flowers, then pink and in July the flower is red. It is very special and early that the flower is red in July.
It can tolerate full sun as well as partial shade, but even a severe frost of -25°C is no problem. The plant is 70 cm high and 40 cm wide.
It is best to prune the plant in February/March when the frost has passed.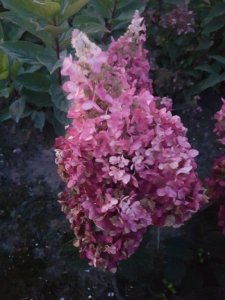 Hydrangea paniculata 'Petite Lanterne'
The Petite Lanterne flowers a little later than the other Petite varieties, actually the same as the traditional varieties, at the beginning of July. It starts white/cream then pink and then in mid-August the flower starts to turn deep red to soft purple. You can see the beautiful red/purple glow over the plants until October. The plant has short red sturdy branches with a large flower. In total, including flower, the branches can reach a height of 90 cm.
The plant becomes 40 cm wide. The flower itself can grow 30 to 35 cm long. The plant can tolerate sun as well as partial shade, but the cold of -25°C is also no problem.
Pruning is done after the frost in February – March
Hydrangea paniculata 'Petite Star'
This is really a party to watch. In August you can see a variety of colors. White, pink and red at the same time. The start of flowering is mid-June with white flowers, then they turn pink and later they turn red. When the first flowers turn red, the party really starts with all kinds of different colors at the same time. That is very unique in the Hydrangea paniculata series.
You can see the color palette until October. This special plant grows to a height of 60-70 cm and a width of 90-100 cm. This Hydrangea can withstand sun and partial shade, but frost -25°C is also no problem.
And pruning is done after the frost in February – March.